News
INAUGURATION CEREMONY 932,4 KWP ROOFTOP SOLAR POWER PROJECT
December 3, 2019, 10:00 AM (GMT+07), at Lot C1-1 / X5, Street D4, Tan Phu Trung Industrial Park, Cu Chi District, Ho Chi Minh City, SCC Investment Corporation (SCCI) held the inauguration ceremony of the 932.4 kWp rooftop solar power project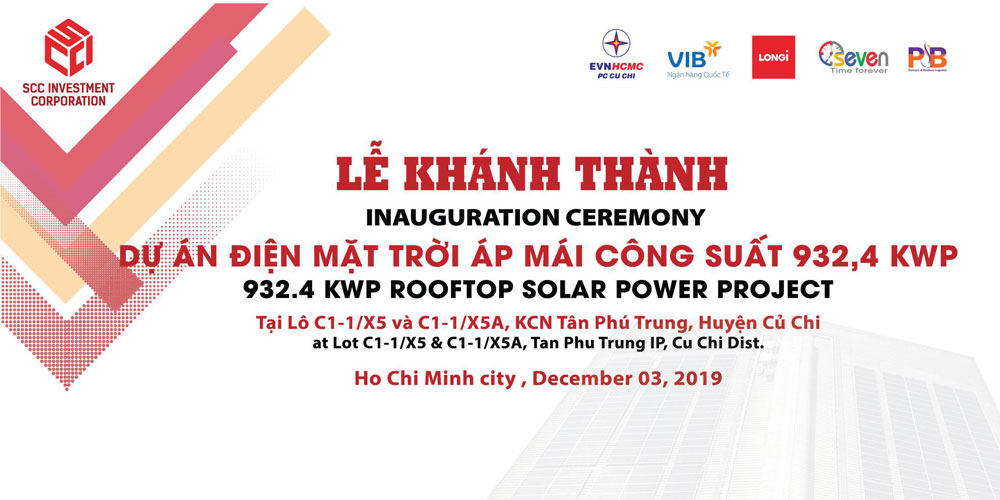 Attending the inauguration ceremony, there was the SCCI's Board of Directors and its member companies, the Ho Chi Minh City Export Processing zone and Industrial Park Authority (HEPZA), the Cu Chi Electrical Company, the Northwest Saigon City Development Corporation (SCD), SCCI's vendors, partners and lessees.
​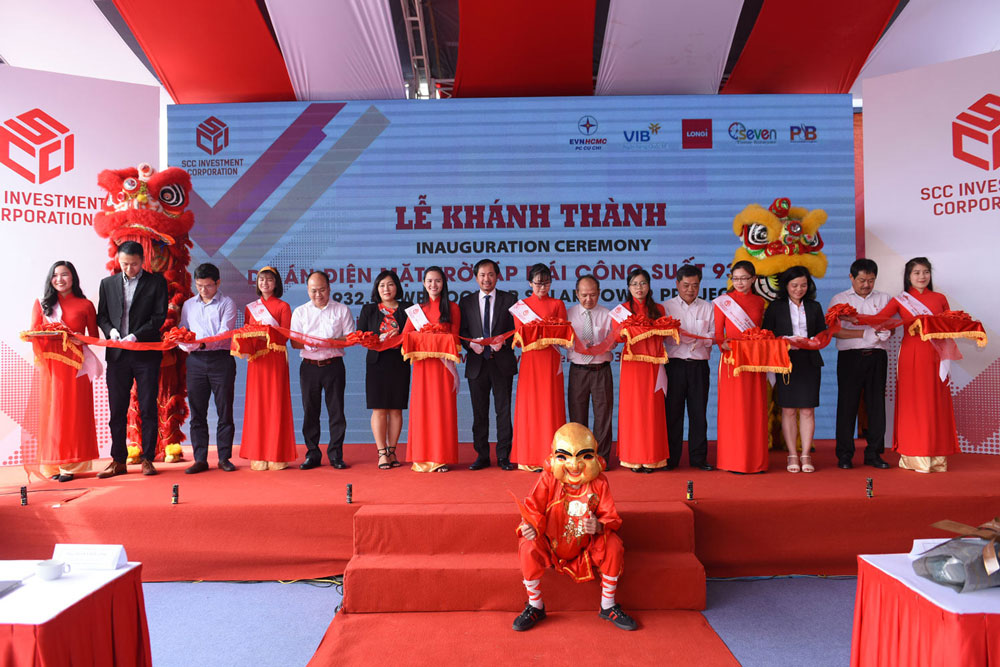 ​
Mr. Tran Viet Anh - General Director of SCCI and delegates cut the inauguration band
Supporting to the government policies encouraging to develop the eco-friendly and recreated energy resource in Vietnam, especially solar power while other resources such as coal, oil are being limited. Ho Chi Minh City is situated in an area with strong radiation, with average sun-time of 6.8hrs/day continuously in a year; the radiation intensity is rather high; therefore, the potential for development and exploitation of solar energy is very high. With the available property, a factory system with approximately 200,000 m2, SCCI has urgently invested the Rooftop Solar Power Project to create more clean energy sources, contributing to the pressure decrease of power supple for the electric industry.
The Board of Directors of SCCI decided to install the rooftop solar power system at 2 factories in Lots C1-1/X5 and C1-1/X5A, D4 Street, Tan Phu Trung Industrial Park, Cu Chi District, HCM City with capacity of 932.4kWp, the trial operational capacity has reached approximately 4,000kWh/day, average reaching 120mWh/month and reaching 1,500mWh/year. The investment on installation and system operation have been very fast, safe, and effective. The Company Management believes that, when this rooftop solar system is put in operation, it will help reduce coal thermoelectricity consumption significantly.

In the coming time, SCCI will continuously develop the installation of solar energy system for Company's other factories. With the investment for installation of rooftop solar system, SCCI hopes to actively contribute to environmential protection and guarantees the target local economic and social development.

Mr. Tran Viet Anh - General Director of SCCI gave flowers and took souvenir photos with delegates of partners implementing the Project

Mr. Tran Viet Anh - General Director of SCCI and delegates visited the rooftop solar power project at Lot C1-1 / X5.
Other news